The gold rush that is China's electric-car market is getting its latest entrant as a slew of local manufacturers fight for a foothold ahead of Tesla Inc.'s planned offensive.
Xpeng Motors started deliveries of its first commercial model on Wednesday, four years after its founding by entrepreneur He Xiaopeng and partners in Guangzhou, southern China. The G3 sport utility vehicle gives Xpeng instant credibility and revenue, while hundreds of other startups are still working on their prototypes and competing for investors' funds.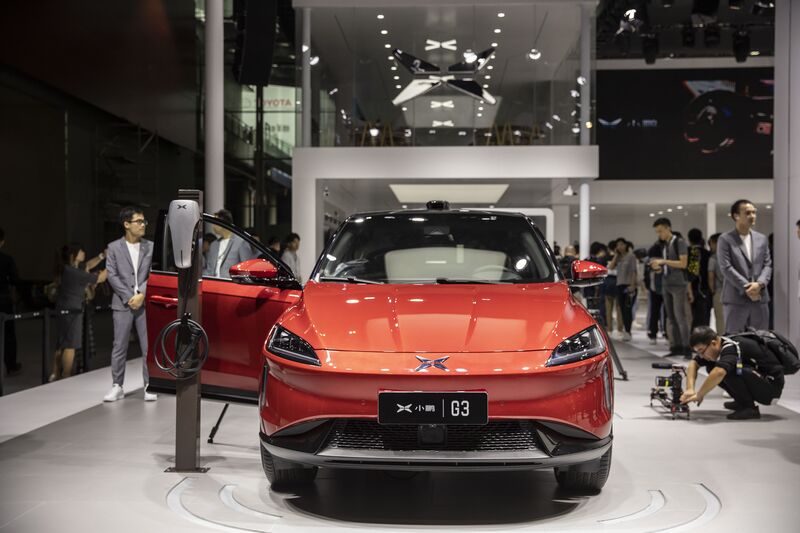 At stake is a market that is set to balloon to hundreds of billions of dollars in the coming decades as China's government promotes greener vehicles at the expense of gas guzzlers. Local brands are trying to gain relevance and secure their survival before Elon Musk's Tesla starts building cars in Shanghai next year and global giants from Volkswagen AG to Ford Motor Co. flood the market with their locally produced electrified models.
"Very few can succeed," He said in an interview in Guangzhou. "Xpeng is very likely to be one of the few."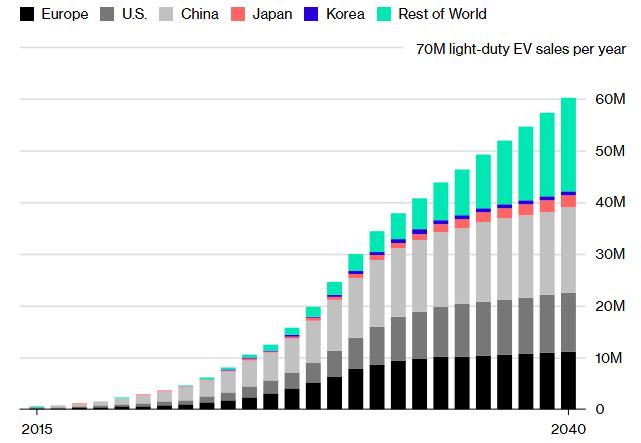 Xpeng handed over the first batch of its five-seater SUVs, priced at about $33,000 to $37,500 before subsidies, after having its employees test the model for the past 14 months. Tesla is set to start delivering U.S.-made, higher-end versions of its Model 3 sedan priced at about $78,000 next year before starting local production of the vehicle.
While the Chinese contenders' lower prices are likely to appeal to buyers, they need to convince customers of their vehicles' quality and brand appeal. At the same time, the startups will face challenges in ramping up manufacturing capacity, which can easily cost hundreds of millions of dollars and is something that rivals from Tesla to NIO Inc. have struggled with.
Breaking Even
He said Xpeng has a healthy cash balance that can sustain the company for at least the next 25 months. The company needs to sell more than 100,000 vehicles to break even, and its profit margin is set to pick up rapidly after it achieves more scale and starts making money on services, he said. Xpeng has no "immediate" timetable for an initial public offering, President and Vice Chairman Brian Gu said.
Tesla Foe in China Hits $4 Billion Valuation Before Selling Cars
Chinese competitors such as WM Motor Technology Co. and Byton have also attracted billions of dollars in total investments in recent years as they prepare for product launches. NIO Inc. raised more than $1 billion in its stock sale in September that valued the company at $6.4 billion, even as the company had delivered fewer than 2,000 vehicles up until its IPO filing.
Yet just 1 percent of China's electric-car startups will survive in an industry that requires significant investment in technology, NIO Capital Managing Partner Ian Zhu said in August. Faraday Future, which is developing a luxury 1,050-horsepower electric vehicle, warned of "extraordinary financial hardship" in October as it furloughed employees and hunted for cash.
"EV startups have become hot potatoes for investors," said Qiu Kaijun, a Beijing-based independent analyst focusing on the EV industry. "Most of the startups are destined to fail since the threshold for making a car is still very high."
China EV Contenders:

— With assistance by Yan Zhang, and Tom Mackenzie